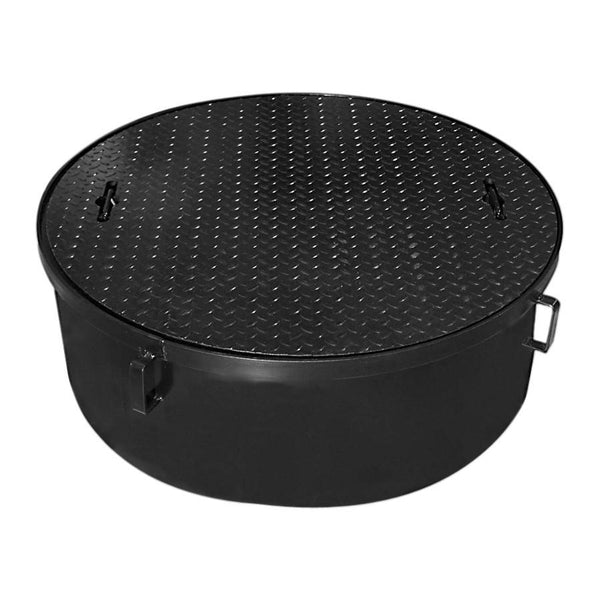 FREE
SHIPPING
100% MONEY
BACK GUARANTEE
ONLINE
SUPPORT 24/7
Availability:
Out Of Stock
The Emco Wheaton A0717 Series Steel Manholes are highly durable and provide secure access to underground storage, monitoring, and containment facilities. With a diameter of 42 inches and a height of 13 inches, this round manhole cover is designed to fit various applications.
Featuring a 1/2 inch steel lay-in lid, this manhole cover ensures a strong and slip-resistant surface. The diamond plate steel lid adds an extra layer of durability and traction. The hot rolled steel skirt provides additional strength and stability to the manhole cover.
The A0717-042A model comes with concrete anchors for secure installation and a T-bar frame for added support. The recessed handle allows for easy opening and closing of the manhole cover. The open throat design makes it convenient to access the underground facility.
This steel manhole cover is water-resistant, ensuring protection against moisture and other environmental factors. The lid color is black, giving it a sleek and professional appearance.
With a lid diameter of 44.1 inches and an overall diameter of 45.0 inches, this manhole cover offers ample space for access. The clearhole ID measures 42.1 inches, providing sufficient room for entry. The skirt ID is 43.5 inches, ensuring a snug fit.
Weighing 324.00 lb., this manhole cover is heavy-duty and built to last. Its AASHTO H20 Wheel Loading compliance guarantees its ability to withstand heavy loads.
To learn more about the Steel Manhole Cover, Round 42" x 13", 1/2" Steel Lay-In Lid (Part # A0717-042A), please contact our Enivo Design Product sales team. You can reach us via the phone number or chat widget located at the bottom of the screen. Our knowledgeable team will be happy to assist you with any inquiries or provide additional information.
Orders are shipped within 2-3 business days. We ship UPS and the tracking number will be emailed. As always, feel free to call 866-514-3684 or email sales@envirodesignproducts.com for any questions.