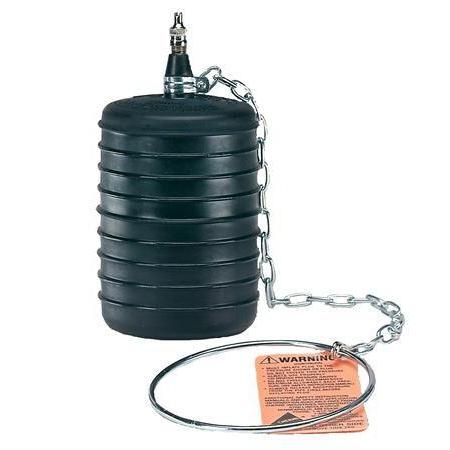 FREE
SHIPPING
100% MONEY
BACK GUARANTEE
ONLINE
SUPPORT 24/7
Availability:
Out Of Stock
The Cherne® 4" Single-Size Plumbing Test-Ball® Plug is the perfect tool for testing drain, vent, and waste systems in any type of pipe. Whether you're a professional plumber or a DIY enthusiast, this plug is designed to meet all your testing needs.
One of the standout features of this plug is its natural rubber body, which allows for excellent expansion and creates a tight seal in both round and out-of-round pipes. This means you can trust that your testing will be accurate and reliable.
Not only is this plug inflatable, but it's also designed to fit through test tees, sanitary tees, floor drains, and other hard-to-access pipe openings. This makes it incredibly versatile and ensures that you can use it in a variety of situations.
When it comes to testing DWV (drain, waste, and vent) plumbing systems, this plug can handle pressures up to 13 psi or with 30 ft of head pressure. This makes it a reliable choice for any testing job you may have.
Connecting this plug is a breeze, thanks to its standard tire air fitting. Simply attach your air source, and you're good to go. Plus, the ring and chain assembly included with this plug help prevent it from being drawn into the DWV system during tests, giving you added peace of mind.
In terms of specifications, this plug can handle a maximum back pressure of 13 psi or 30 ft. It requires an inflation pressure of 30 psi and has a usage range of 3.41-4.25 inches. The deflated length is 6.5 inches, and the nominal size is 4 inches (100 mm).
Overall, the Cherne® 4" Single-Size Plumbing Test-Ball® Plug is a reliable, versatile, and easy-to-use tool for all your plumbing testing needs. Trust Cherne Industries, a global leader in pipe plug, blocking, and testing, to provide you with a high-quality product that gets the job done right.
For more information or to purchase this product, please contact Enivo Design Product sales team at [phone number] or chat with us using the chat widget at the bottom of the screen. Our team is ready to assist you with any questions or inquiries you may have.
Orders are shipped within 2-3 business days. We ship UPS and the tracking number will be emailed. As always, feel free to call 866-514-3684 or email sales@envirodesignproducts.com for any questions.