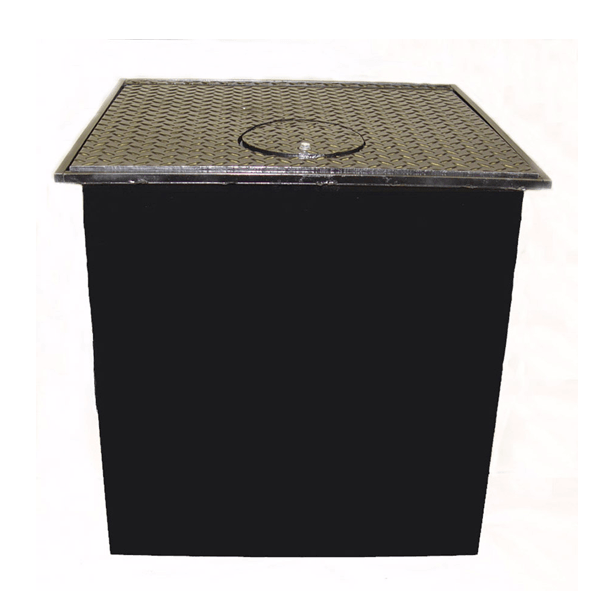 FREE
SHIPPING
100% MONEY
BACK GUARANTEE
ONLINE
SUPPORT 24/7
Availability:
Out Of Stock
The Vault 30" x 30" x 24" Hinged Locking Manhole Cover, part #A0717-730VW, is an essential solution for accessing tank hardware and monitoring equipment with ease. This square manhole vault is designed with convenience and security in mind.
Featuring a double-hinged lid, this vault opens and folds back a full 180 degrees, providing unrestricted access to the contents inside. The lock-access lid is permanently fastened with an anti-theft chain and secured with a single pinned bolt, ensuring that your equipment remains protected at all times.
Constructed with durability in mind, this vault boasts a heavy-duty 3/8" diamond plate lid and a 16-gauge steel skirt. It is further reinforced with 2" x 2" x 1/4" steel angle, guaranteeing its strength and longevity.
With dimensions of 30" x 30" for the locking lid and an overall height of 24.6", this manhole cover is designed to fit perfectly in various applications. The lid itself weighs 123 lbs., and the total weight of the vault is 200 lbs.
In addition to its robust construction, this manhole vault is also water-resistant, ensuring that the contents inside remain protected even in adverse weather conditions.
For more information about the Vault 30" x 30" x 24" Hinged Locking Manhole Cover, please contact the Enivo Design Product sales team. You can reach us via the phone number or chat widget located at the bottom of the screen. Our team will be happy to assist you with any inquiries or provide further details about this exceptional product.
Orders are shipped within 2-3 business days. We ship UPS and the tracking number will be emailed. As always, feel free to call 866-514-3684 or email sales@envirodesignproducts.com for any questions.