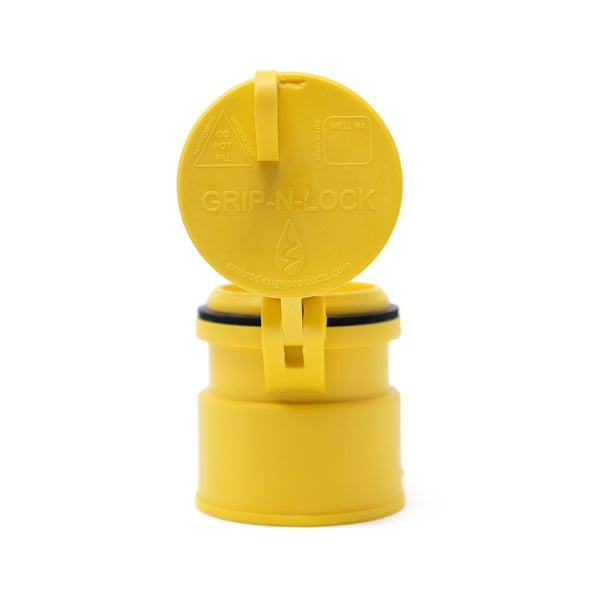 FREE
SHIPPING
100% MONEY
BACK GUARANTEE
ONLINE
SUPPORT 24/7
Availability:
680 In Stock
The Enviro Design Products Grip-N-Lock Well Monitoring Cap is a highly recommended and reliable solution for securing SCH 40 to 80 PVC pipe fittings. This well cap is a redesigned version of the old Snap Cap, offering improved features and functionality.
One of the key features of the Grip-N-Lock Well Cap is its watertight and tamperproof design. It is securely held in place by 10 internal watertight concentric rings, ensuring a tight and secure fit. The cap also features a square UV protective gasket that creates a watertight compression seal, further enhancing its performance.
With a height of only 3.00" when installed, the Grip-N-Lock Well Cap is compact and unobtrusive. It is designed for easy installation, eliminating the need for screwing, riveting, or gluing. Simply tap it in place either above or below grade.
The Grip-N-Lock Well Cap is highly recommended by several state and county regulatory agencies due to its easy installation, watertight security, locking capability, and high visibility. It is an excellent investment for high-traffic areas and profile sites. Additionally, it is cost-efficient and built to withstand challenging environments.
This well cap can be securely locked using a standard padlock, providing an extra layer of security. Its durable and sturdy design ensures long-lasting performance, even in the harshest environments.
The Grip-N-Lock Well Cap is the ideal choice for ensuring the integrity and security of well monitoring systems. 
Orders are shipped within 2-3 business days. We ship UPS and the tracking number will be emailed. As always, feel free to call 866-514-3684 or email sales@envirodesignproducts.com for any questions.