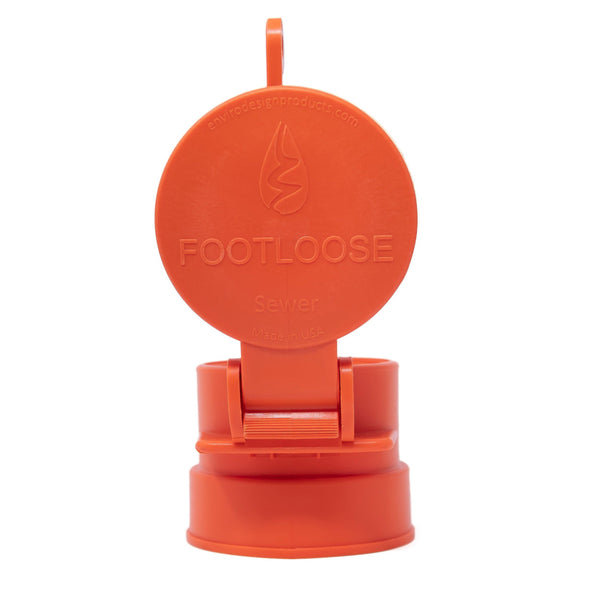 FREE
SHIPPING
100% MONEY
BACK GUARANTEE
ONLINE
SUPPORT 24/7
Availability:
1572 In Stock
Introducing the FootLoose RV Site Sewer Cap by Enviro Design Products! This innovative 4" sewer cap is designed to provide convenience and peace of mind for RV enthusiasts. With just a simple foot operation, you can easily access your sewer without lifting a finger. No more struggling with traditional caps!
Installation is a breeze - simply tap the cap onto your 4" SCH 40 PVC pipe, no riveting or gluing required. And when the cap is not in use, you can lock it with a standard padlock or zip-tie to prevent unauthorized access.
Our RV site sewer caps are made from ultra-high chemical and temperature-resistant materials, ensuring durability and longevity. They are also infused with UV resistance, so you can trust that they will withstand even the hottest summer weather.
One of the key features of our FootLoose sewer cap is its tamper-free design. You can have peace of mind knowing that your sewer line is secure and protected. Say goodbye to unpleasant odors and potential contamination!
Not only does our sewer cap provide functionality, but it also adds a touch of style to your RV site. The vibrant orange color adds a pop of brightness, making it easy to spot and enhancing the overall aesthetics of your RV dump station.
Why choose FootLoose? We understand the importance of a clean and sanitary environment for campers. A flooded sewage system can be a nightmare, leading to water contamination and campground shutdowns. That's why we've designed our sewer caps to be high-quality, secure, and affordable. With FootLoose, you can ensure the safety and satisfaction of your campers, earning those coveted 5-star reviews!
Installation is quick and hassle-free. No need for complicated tools or techniques - simply tap the rim with a rubber mallet in a circular motion. For detailed instructions, you can download our easy-to-follow installation guide.
Still have questions? Our Enivo Design Product sales team is here to assist you. We're happy to provide more information and help you make the best choice for your RV site.
Choose FootLoose RV Site Sewer Cap for a worry-free and odor-free RV experience. Trust in Enviro Design Products for quality, durability, and peace of mind.
Orders are shipped within 2-3 business days. We ship UPS and the tracking number will be emailed. As always, feel free to call 866-514-3684 or email sales@envirodesignproducts.com for any questions.