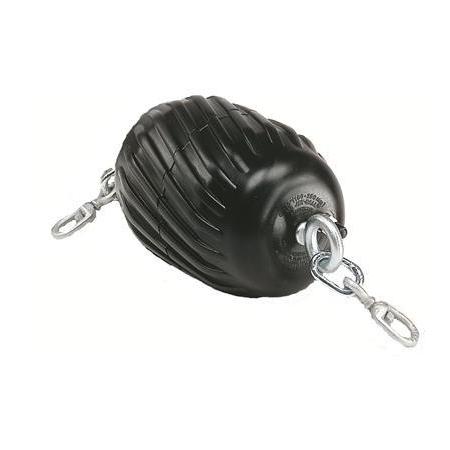 FREE
SHIPPING
100% MONEY
BACK GUARANTEE
ONLINE
SUPPORT 24/7
Availability:
Out Of Stock
The Cherne® Jet-Ball™ Cleaning Balls are an essential tool for effectively cleaning new lines before conducting line acceptance testing. They are also highly efficient in removing grease and debris from existing pipelines.
One of the standout features of these cleaning balls is the eye bolts located at each end, allowing for easy tethering and secure handling. The spiral grooves on the surface of the balls create a powerful spraying action, ensuring thorough cleaning of the pipelines.
These cleaning balls are a cost-effective alternative to expensive jet trucks when it comes to removing grease from existing lines. Made of natural rubber, they are durable and long-lasting.
In terms of specifications, the Jet-Ball Cleaning Balls weigh 2.5 lbs and have a deflated length of 8 inches (203 mm) and a deflated diameter of 5.62 inches (142 mm). The nominal size ranges from 6 inches to 10 inches (150 - 250 mm), with a usage range of 5.87 inches to 10.25 inches (149 - 260 mm).
The Cherne brand is known for its quality and reliability, and these cleaning balls are no exception. They come in a sleek black color and can withstand a maximum back pressure of 5 ft.
To inflate the cleaning balls, simply use the 1/4 inch inflation thread provided. The balls also feature 3/8 inch chain eye bolts for added convenience.
These Jet-Ball Cleaning Balls are part of Cherne's range of test plug accessories, ensuring a comprehensive solution for pipeline cleaning and maintenance.
For more information about these cleaning balls or to make a purchase, please contact the Enivo Design Product sales team. You can reach us via the phone number provided or through the chat widget at the bottom of the screen. Our knowledgeable team will be more than happy to assist you.
Orders are shipped within 2-3 business days. We ship UPS and the tracking number will be emailed. As always, feel free to call 866-514-3684 or email sales@envirodesignproducts.com for any questions.