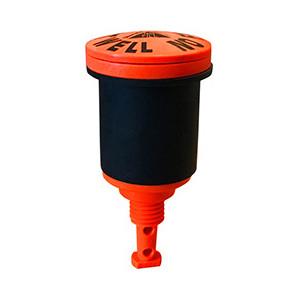 FREE
SHIPPING
100% MONEY
BACK GUARANTEE
ONLINE
SUPPORT 24/7
Availability:
Out Of Stock
The 2" FlushLock Locking Well Plug SCH 80 is a high-quality well plug designed for maximum security and convenience. Unlike traditional well plugs, the FlushLock well plug is flush in height and diameter with the well casing, freeing up valuable space in pro casings or manholes.
Made from environmentally sustainable prime Nylon, this well plug is not only durable but also eco-friendly. It does not contain any metal parts or padlocks, instead utilizing a unique security key for ultimate protection. This innovative design is ideal for vapor extraction or product insertion applications.
The FlushLock well plug features a new generation locking mechanism and a flush locking plug profile, ensuring a tight and secure fit. It also utilizes the Quad 4 Gasket Sealing System, providing a reliable seal to prevent any leakage.
In addition to its practical features, this well plug is also highly visible with its bright safety orange color. The domed top design helps shuttle liquids away from the well, further enhancing its effectiveness.
For easy identification, the well plug is marked with clear and highly visible "NO FILL TEST WELL" and Triangle ID lettering. Please note that the FlushLock Key is sold separately.
Enviro Design Products is an authorized distributor of Koby Environmental's American-made products. Koby Environmental has a long-standing reputation for designing and manufacturing high-quality environmental groundwater and soil testing equipment since 1989.
For more information about the 2" FlushLock Locking Well Plug SCH 80, please contact the Enivo Design Product sales team. They can be reached via the phone number or chat widget located at the bottom of the screen.
Orders are shipped within 2-3 business days. We ship UPS and the tracking number will be emailed. As always, feel free to call 866-514-3684 or email sales@envirodesignproducts.com for any questions.