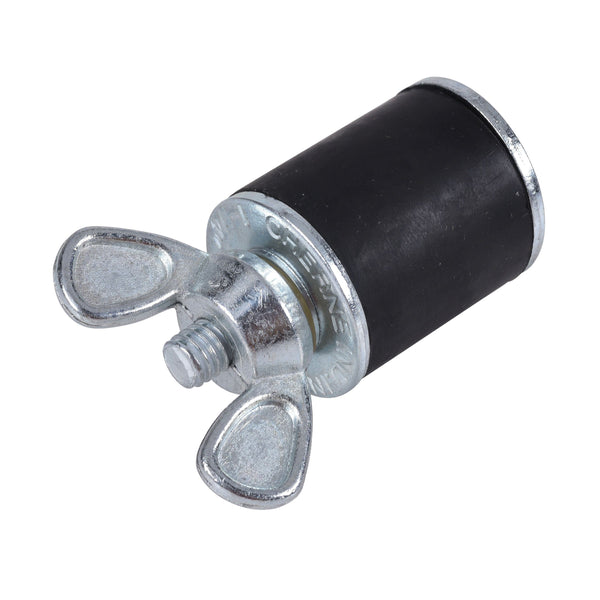 FREE
SHIPPING
100% MONEY
BACK GUARANTEE
ONLINE
SUPPORT 24/7
Availability:
Out Of Stock
The Cherne® 1-1/4" Kwik 'N Sure® Plug is the perfect solution for all your high-pressure plumbing needs. Whether you're working with PVC, copper, or any other type of pipe, this plug is designed to get the job done.
One of the standout features of this plug is its versatility. It works in all types of pipe, making it a reliable choice for any plumbing project. It is especially ideal for plugging water line stub-outs, ensuring a secure and watertight seal.
To ensure maximum performance, this plug is designed for high-pressure applications. It can withstand a head pressure of up to 258 feet, making it a reliable choice for even the most demanding plumbing tasks. Additionally, it has a maximum back pressure of 112 psi (7.7 bar), providing peace of mind knowing that it can handle the pressure.
The Cherne® 1-1/4" Kwik 'N Sure® Plug is equipped with a natural rubber o-ring, ensuring a tight and secure seal. Depending on the size, it is also equipped with a convenient wing nut or hex nut for easy installation and removal.
With a nominal size of 1.25" and a usage range of 1.24"-1.43", this plug is perfectly suited for a variety of applications. Whether you're working on a small residential project or a larger commercial endeavor, this plug has got you covered.
For more information about the Cherne® 1-1/4" Kwik 'N Sure® Plug or to place an order, please contact our Enivo Design Product sales team. You can reach us by phone at 866-514-3684 or by using the chat widget located at the bottom of your screen. Our knowledgeable team is ready to assist you with any questions or concerns you may have.
Orders are shipped within 2-3 business days. We ship UPS and the tracking number will be emailed. As always, feel free to call 866-514-3684 or email sales@envirodesignproducts.com for any questions.