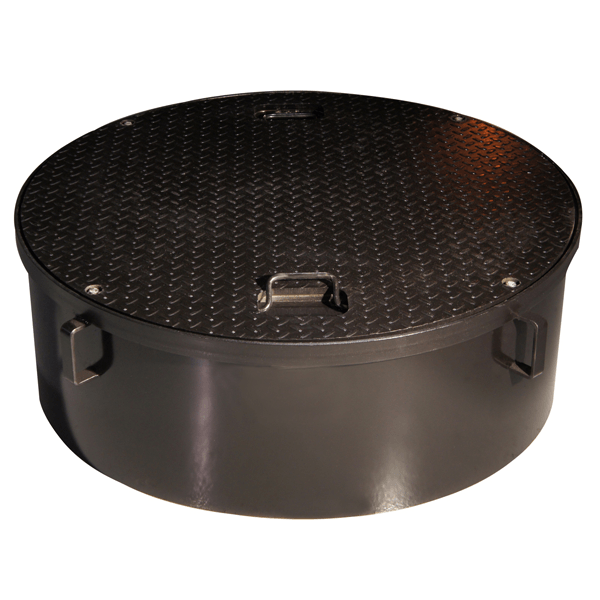 FREE
SHIPPING
100% MONEY
BACK GUARANTEE
ONLINE
SUPPORT 24/7
Availability:
Out Of Stock
The Emco Wheaton A0717-030B Steel Manhole Cover provides a strong and secure access point for underground storage, monitoring, and containment facilities. With a diameter of 30 inches and a height of 13 inches, this round manhole cover is designed to meet AASHTO H20 Wheel Loading standards, ensuring durability and reliability.
Featuring a non-skid surface, the A0717-030B offers enhanced safety by preventing slips and falls. The cast iron lid, paired with a bolt-down design and a water-resistant ribbed seal, ensures a secure and watertight closure. The steel skirt adds further strength and stability to the manhole cover.
With a sleek black lid, the A0717-030B seamlessly blends into its surroundings while providing easy access to the underlying infrastructure. The lid has a diameter of 29.6 inches, while the overall diameter of the manhole cover is 30.5 inches. The clearhole ID measures 27.6 inches, and the skirt ID is 29.0 inches. The overall height of the manhole cover is 13 inches, and it weighs 127 pounds.
For more information about the Emco Wheaton A0717-030B Steel Manhole Cover, please contact the Enivo Design Product sales team. They can be reached via phone at 866-514-3684 or through the chat widget located at the bottom of the screen. Our knowledgeable team is ready to assist you with any inquiries or additional details you may require.
Orders are shipped within 2-3 business days. We ship UPS and the tracking number will be emailed. As always, feel free to call 866-514-3684 or email sales@envirodesignproducts.com for any questions.