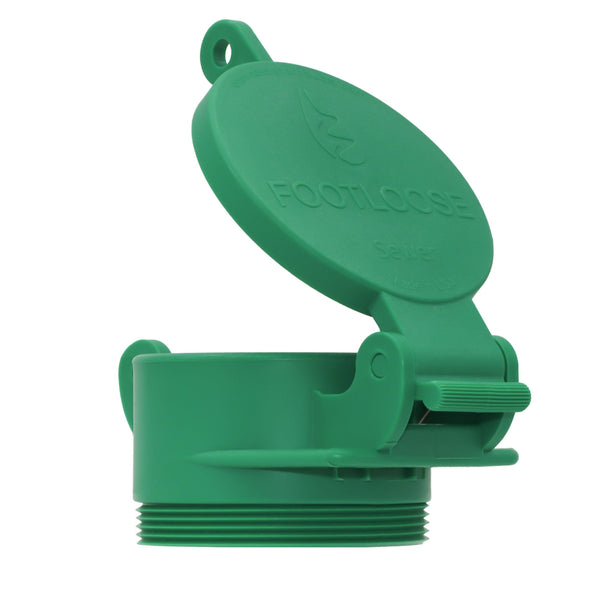 FREE
SHIPPING
100% MONEY
BACK GUARANTEE
ONLINE
SUPPORT 24/7
Availability:
382 In Stock
The FootLoose RV Site Sewer Cap by Enviro Design Products is the perfect solution for those seeking an adventurous and flexible lifestyle. This foot-operated sewer cap is designed to provide easy access to your sewer without any hassle. Simply place your foot on the cap, tilt, and it opens, allowing you to conveniently connect or disconnect your sewer line without lifting a finger.
Installation is a breeze as there is no need for riveting or gluing. The cap can be easily tapped onto a 4" SCH 40 PVC pipe. For added security, you can use a standard padlock or zip-tie to lock out unauthorized users when the cap is not in use.
Rest assured that our RV site sewer caps are of the highest quality and tamper-free, ensuring the security of your sewer line. You can enjoy a worry-free experience with our odor-free option, which is also suitable for use as an RV dump station lid.
Our sewer caps are made from ultra-high chemical and temperature-resistant materials, guaranteeing their durability. They are also infused with UV resistance, making them capable of withstanding even the hottest summer weather.
Why settle for anything less when you can choose FootLoose? Our sewer caps are designed with your convenience and peace of mind in mind. Don't let a flooded sewage system contaminate your drinking water or shut down your campground. Trust in the reliability and security of FootLoose Sewer Caps by Enviro Design Products.
In addition to their functionality, our sewer caps come with a range of features that set them apart. They are available in both male and female options, ensuring compatibility with your specific needs. The self-closing mechanism adds an extra layer of convenience, allowing for effortless operation.
With their bright colors, our sewer caps are not only functional but also visually appealing. They are designed to catch the eye and add a touch of vibrancy to your RV site. Moreover, the tamper-resistant design ensures that only authorized individuals can access your sewer line.
When you choose FootLoose, you are also supporting American manufacturing. Our sewer caps are proudly made in the USA, guaranteeing their quality and supporting local businesses.
For easy installation, simply tap the rim of the sewer cap with a rubber mallet in a circular motion. No riveting or gluing is necessary, making the process quick and hassle-free. For detailed installation instructions, you can download our instructions guide from our website.
Orders are shipped within 2-3 business days. We ship UPS and the tracking number will be emailed. As always, feel free to call 866-514-3684 or email sales@envirodesignproducts.com for any questions.