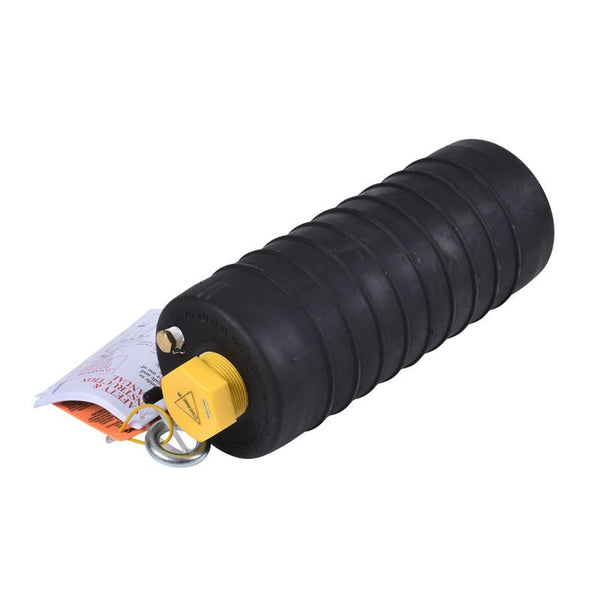 FREE
SHIPPING
100% MONEY
BACK GUARANTEE
ONLINE
SUPPORT 24/7
Availability:
Out Of Stock
The Cherne® Muni-Ball, 6-8 IN., is a versatile and efficient solution for testing and monitoring underground piping systems. This multi-size bypass plug offers a full bypass feature, allowing you to easily test and monitor the system without any hassle. Whether you need it for residential or commercial piping systems, this plug is designed to meet your needs.
One of the key features of this plug is its construction from natural rubber, which ensures excellent expansion and memory. This means that it can easily adapt to different pipe diameters, making it a versatile choice. The removable inflation valve adds to its convenience, as it can be replaced if damaged or even replaced with a quick disconnect fitting.
Another advantage of the Cherne® Muni-Ball is its ability to seal both round and out-of-round pipes. This ensures a reliable and secure seal, preventing any leakage or flow. It can be used to block flow or even as a back plug for sewer air testing.
In terms of specifications, this plug has an inflation pressure of 35 PSI and a usage range of 5.5-8.35 inches. Its deflated length is 13 inches, and the deflated diameter is 5 inches. The inflation thread measures 0.25 inches, and the nominal size is 6-8 inches.
For more information about this product or to make a purchase, please contact the Enivo Design Product sales team. You can reach us via the phone number or chat widget located at the bottom of the screen. Our team will be happy to assist you and provide any additional details you may require.
Orders are shipped within 2-3 business days. We ship UPS and the tracking number will be emailed. As always, feel free to call 866-514-3684 or email sales@envirodesignproducts.com for any questions.