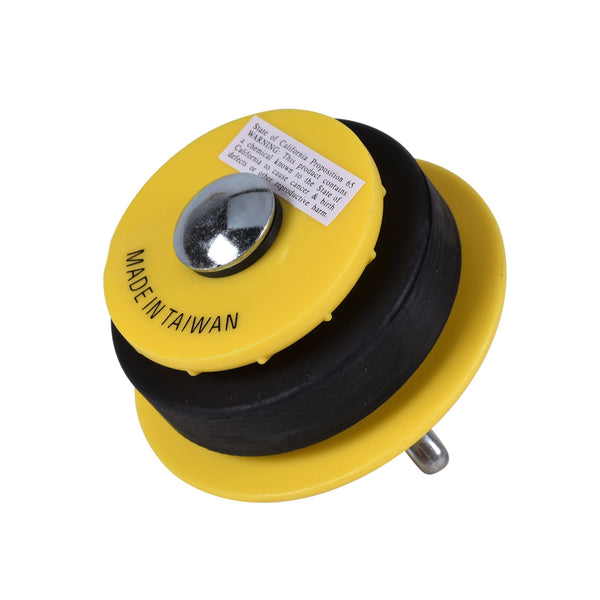 FREE
SHIPPING
100% MONEY
BACK GUARANTEE
ONLINE
SUPPORT 24/7
Availability:
Out Of Stock
The Cherne® 2" Hub-Fit Gripper® Plug is a must-have tool for any plumbing project. This plug is designed to fit perfectly in hub fittings and bell-end pipes, making installation a breeze.
One of the standout features of this plug is its pressure rating for conducting DWV tests. With a maximum back pressure of 13 psi (0.9 bar), you can trust that this plug will hold up under pressure.
The yellow color of the plug enhances visibility in the pipe, making it easy to locate and remove when needed.
Crafted with durability in mind, this plug is made with glass-reinforced ABS plastic and features a natural rubber O-ring. This combination ensures a tight and secure fit, preventing any leaks or water damage.
To further enhance its longevity, the plug is equipped with a galvanized carriage bolt and stainless steel hardware to prevent corrosion.
Installation is a breeze with the easy-to-use extra large zinc wing nut. This wing nut won't rust, allowing for effortless tightening and loosening whenever necessary.
With a usage range of 2"-2.45", this plug is versatile and can be used in a variety of applications.
If you're looking for a reliable and durable plug for your plumbing needs, the Cherne® 2" Hub-Fit Gripper® Plug is the perfect choice. Contact the Enivo Design Product sales team today for more information on this product. You can reach us via phone at 866-514-3684 or through the chat widget at the bottom of the screen.
Orders are shipped within 2-3 business days. We ship UPS and the tracking number will be emailed. As always, feel free to call 866-514-3684 or email sales@envirodesignproducts.com for any questions.