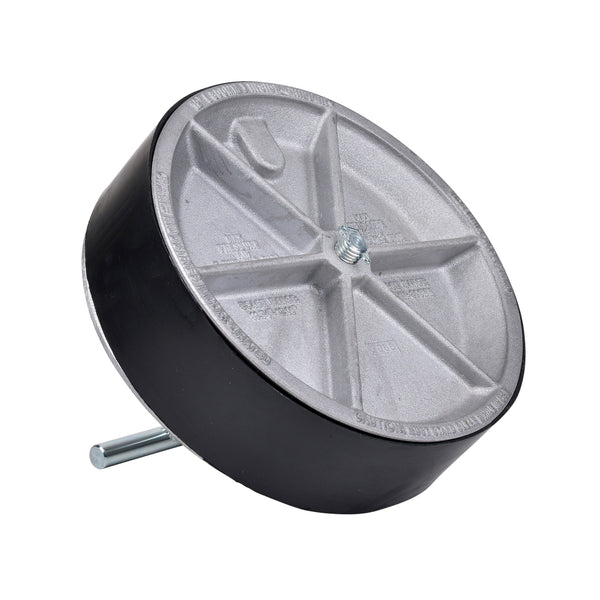 FREE
SHIPPING
100% MONEY
BACK GUARANTEE
ONLINE
SUPPORT 24/7
Availability:
Out Of Stock
The Cherne® 12" Aluminum T-Handle Gripper® Plug (Non Bypass) is the perfect solution for all your long-term plug needs. With its durable construction and chemical-resistant neoprene O-ring, this plug is built to last.
The 12" size is ideal for a variety of applications, including concrete, clay, and SDR 26 and 35 pipe. Whether you need to plug a pipe for maintenance or testing purposes, this gripper plug has got you covered.
Featuring a zinc-plated steel handle and an aluminum body, this plug is designed to withstand heavy-duty use. The end-of-pipe design ensures that the plug won't fall in, giving you peace of mind during your projects.
The inside-of-pipe design allows you to place the plug as far inside the pipe as you need, giving you maximum flexibility. No matter the size or type of pipe, this gripper plug will get the job done.
With a usage range of 11.7" to 12.3" and a maximum back pressure of 13 PSI - 30 ft, this plug is versatile and reliable. Its length of 9.7" and weight of 15.5 lbs make it easy to handle and transport.
For more information about the Cherne® 12" Aluminum T-Handle Gripper® Plug (Non Bypass), please contact our Enivo Design Product sales team. They can be reached via phone at [phone number] or through the chat widget at the bottom of the screen. Our knowledgeable team is ready to assist you with any questions or concerns you may have.
Orders are shipped within 2-3 business days. We ship UPS and the tracking number will be emailed. As always, feel free to call 866-514-3684 or email sales@envirodesignproducts.com for any questions.