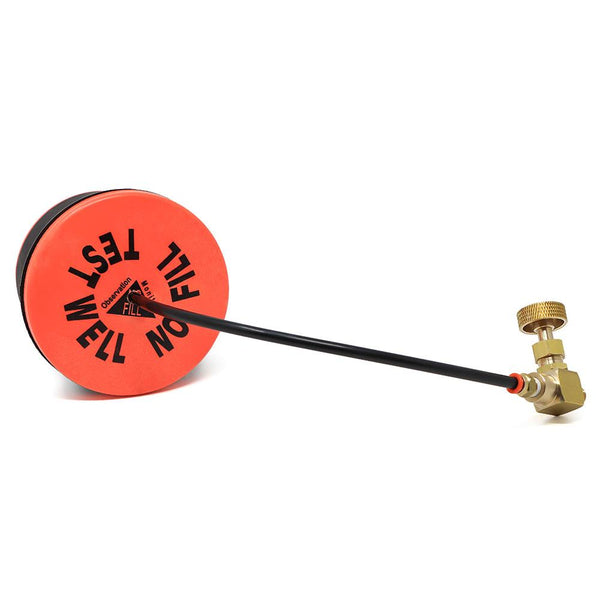 FREE
SHIPPING
100% MONEY
BACK GUARANTEE
ONLINE
SUPPORT 24/7
Availability:
Out Of Stock
Introducing the 4" FlushLock Locking Well Vapor Extraction Plug SCH 40, the ultimate solution for your extraction and insertion plug needs. With its innovative design and superior quality, this plug sets a new standard in the industry.
The FlushLock Locking Well Vapor Extraction Plug features the FlushLock leak-proof Quad 4 sealing system, ensuring maximum performance and reliability. It is equipped with a spin-welded 1/4" X 1/8" X 1' length of highly flexible nylon tubing, allowing for unlimited field configurations. This plug also comes with a quick-release 1/8" NPT brass tubing adapter and a high-precision brass needle valve assembly with 1/8" NPT threads, providing unmatched versatility and ease of use.
One of the standout features of this product is its ultra-low well casing profile, which allows for seamless integration into your existing setup. The FlushLock Vapor Extraction Plug guarantees superior air and gas sealing properties, ensuring a leak-free operation every time.
For your convenience, this plug comes factory supplied with one foot of highly flexible nylon tubing and a high-precision brass valve with 1/8" male pipe threads (NPTM). It is available in both 2" (50mm) and 4" (100mm) sizes, with options for both schedule 40 and schedule 80.
Please note that the FlushLock Vapor Extraction Key (product # FLVEK) is sold separately. This special key can be used for both the FlushLock and FlushLock Vapor Extraction Product Insertion Plug, providing added convenience and compatibility.
For more information about the 4" FlushLock Locking Well Vapor Extraction Plug SCH 40, please contact our Enivo Design Product sales team. They are available to assist you and provide any additional details you may need. You can reach them through the phone number or chat widget located at the bottom of your screen.
Orders are shipped within 2-3 business days. We ship UPS and the tracking number will be emailed. As always, feel free to call 866-514-3684 or email sales@envirodesignproducts.com for any questions.