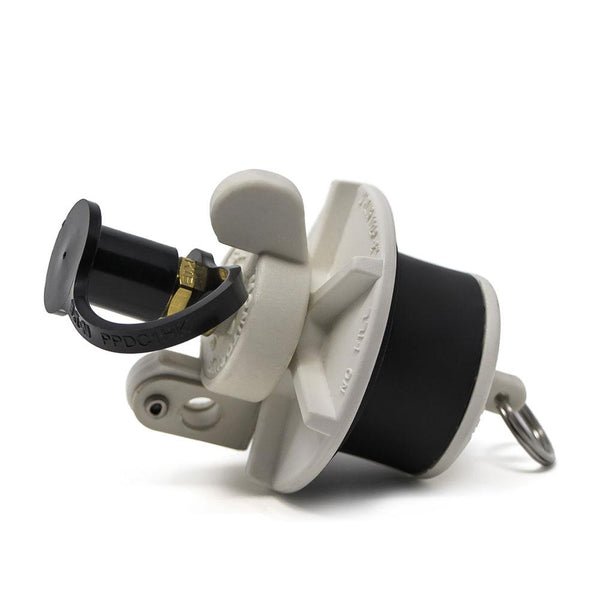 FREE
SHIPPING
100% MONEY
BACK GUARANTEE
ONLINE
SUPPORT 24/7
Availability:
Out Of Stock
Introducing the 2" J-Plug Xcap Locking Well Vapor Extraction Plug SCH 80, an innovative tool that revolutionizes the process of vapor and water sampling. This self-sealing vapor sampling cap is designed to replace standard monitoring well caps, offering a more efficient and accurate method of vapor or water monitoring.
Crafted from reinforced chemical-resistant nylon, this plug is not only robust but also resistant to corrosion. The plug comes with a permanently attached dust cover for added protection and longevity. The large wing nut design simplifies the process of locking or releasing, making it more user-friendly.
This extraction plug is particularly suited for landfill gas sampling, thanks to its airtight brass valve and watertight expansion plug. It features two separate BunaN o-rings and a wide rubber seal that offers an increased gripping area, ensuring a secure fit and seal.
The plug's unique design includes a flip-down locking hasp that can be secured with a padlock, offering an extra layer of security. For added convenience, the plug is equipped with a quick connect extraction connector, sold separately.
One of the standout features of this extraction plug is its ability to stabilize water tables, creating an ambient condition with both a watertight enclosure and open atmosphere. This feature allows for the sampling of vapors or water at the equilibrium conditions present in the well without opening the well to the atmosphere.
Proudly made in the USA, the 2" J-Plug Xcap Locking Well Vapor Extraction Plug SCH 80 is a testament to superior craftsmanship and innovative design.
For more information about this product or to place an order, please feel free to contact the Enivo Design Product sales team. You can reach us via the phone number or chat widget located at the bottom of your screen. Our team is always ready to assist you with your needs.
Orders are shipped within 2-3 business days. We ship UPS and the tracking number will be emailed. As always, feel free to call 866-514-3684 or email sales@envirodesignproducts.com for any questions.